Visit Stockholm with an attraction card!

A bit of all that is included in the Stockholm Pass

Discover Stockholm on a sightseeing. You can go by bus, boat, city walks and nice food tours. Enjoy your self.


Search and compare flight prices!

Search and compare best flight price to Stockholm!

Use the search form and search through over 450 airlines and find the best deal to Stockholm. We work with cheapOair that is one of the World´s biggest flight-comparising website.

Go directly to cheapOair »

Sightseeing in Stockholm!
Old Town Walking Tour
Approx 90 min (Jan - Nov)
Walk through the Old Town in Stockholm together with a guide. See interesting buildings and hear stories of the city.
Royal Canal Tour
Approx 50 min (Mar - Dec)
Take a cruise in Stockholm on a canal boat. See historic sights from the water while listening to an informative audio guide.
Buy tickets »
Buy tickets »
Stockholm - the capital of Sweden!
Stockholm is beautifully located on the inlet of lake Mälaren with the Baltic archipelago just next door. Stockholm is perfect for a weekend or why not a whole week. Amuse your self at Gröna Lund amusement park, Skansen, shop in Gamla Stan (Old Town), go to a musical, a concert in Globe Arena, visit the Royal Palace, check out the Vasa ship, take a boat trip in the archipelago or go on a city tour. Stockholm offers comfortable accommodation at a luxury hotel or a cozy hostel and nice dinners at the countless restaurants in town. You can explore Stockholm with a Stockholm Pass that is filled with free entrances to Stockholm sights and sightseeing.

There is something for everyone - young and old. Yes, it is lovely - the capital of Sweden. Welcome to Stockholm.
| | | |
| --- | --- | --- |
| | | iloveStockholm.se in cooperation with booking.com |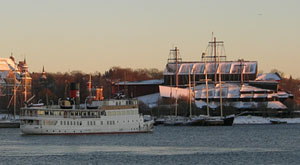 Vasa was going on her maiden voyage in 1628 but came to an abrupt end when the ship sank in the middle of Stockholm harbor. 333 years later she was picked up, the year was 1961. Since then she has been preserved for us to see. Vasa is the only preserved 1600-century ship. She is 69 meter long and made mostly of wood.

It was King Gustav II Adolf, who had the Vasa built. He was of the Vasa dynasty that had a bunch of rice (vase) as a symbol thereof the name of the ship. Vasa was a warship and would take about 450 men on board. She was armed with 64 cannons. It was also the same king who founded Gothenburg in 1621

The Vasa Museum opened on June 15, 1990 by King Carl XVI Gustav, and since the opening the museum has had over 1 million visitors. For prices and opening hours see their website. Included in the Stockholm Pass.

Address: Vasa museum, Galärvarvsvägen 14, Djurgården, Stockholm
Read more about the Royal ship Vasa here »
Official Vasa museum website »




The Royal Palace - H.M. the Kings official residence!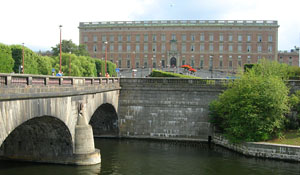 The Royal Palace is centrally located in Stockholm right next to the Old Town (Gamla Stan), at Slottsbacken. The castle is open to the public and you can go on a guided tour that is included in the entrance ticket. The old castle Tre Kronor was ravaged by fire on May 7, 1697 and not until 1754 could the royal family move back into the castle. Each royal ruler has left its mark on the castle as you can see during the tour. Here you can among other things see King Gustav III's bedchamber, Oscar II's writing room and Queen Kristina's silver throne. To view the regalia please visit the Treasury. And do not miss the Royal Guards (the daily changing of the guard).

For entrance fees and opening hours please visit the Royal Palace website.

Address: Kungliga Slottet, Slottsbacken 1, Old Town (Gamla Stan), Stockholm
Read more about the Royal Palace here »
The Royal Palace website »
The Royal Guards website »