Birka Vikingastaden
- UNESCO World Heritage Site
Address: Islan Björkö in Mälaren (boat from Stadshus Bridge in Stockholm)
Season: ca April 28 - Sept 23

Take a boat trip to the Stockholm archipelago and visit the old Viking village of Birka. Here you can go around yourself or book guided tours. Between the 700-900 century, here lived about 800-1000 inhabitants. The city was a focal point for trade with different parts of the world and Europe. Today you can see excavations, visit the museum, enter a Viking house, see ancient monuments, tombs, etc. There is also a beach and restaurant.


History
Probably it was Sveakungen who decided that Birka would be built (in the late 700's) in order to control trade in northern Scandinavia. Here was a trade in Arabic silver, ceramics, eastern pearls and the side. In exchange, they received furs, hides and iron from Scandinavia.
The word Birka may have originated from the older Swedish's "birch" meaning a castle or trading venue.

Their simple house was at the beach. A major work that started several years ago was to reconstruct a city block with its associated sites. Today you can enter the village and feel a little like a Viking and understand a little more how living and living here.

The Benediktermunken Ansgar came to Birka on a couple of occasions. His mission was to repent the Gentile people to Christianity. His goals were fulfilled to a small extent - some became Christians, but many retained their old Nordic gods.

Birka abandoned
The village was abandoned for unknown reason in the late 900's. There are different theories about why it was abandoned. Could it have been a political decision or that the land increase at this time meant that Birka was no longer such a strategically good place. There are about 3000 tombs on the island.
| | |
| --- | --- |
| Tickets | Birka - The Viking City |

Birka - The Viking City (roundtrip by boat)

Make a visit to the Viking City of Birka in the middle of lake Mälaren. Travelling back in time and experience how it could be in Sweden during the Viking period during 750´s. See visible trace of the people who lived and died here. Your guide will introduce you to the Viking era (included in the ticket). For you who like history - this is the trip for you. Entrance to the museum also included in the ticket.

Season: April 28 - Sept 23
Departs from: Stadshusbron
Time: 6 h 45min
Free: Children under 6 years old.
Half price: Children between 6-15 years old.
Buy tickets to Birka - The Viking City »
Presents in cooperation with
Strömma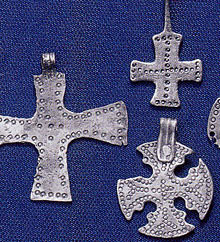 Excavations in Birka

One of the biggest finds on Birka comes from one of Hjalmar Stolpe's excavations in the late 1800's. He found a large silver tresure with about 450 Islamic silver coins. He also found most silver jewelry that were located in a iron barrel.

Hjalmar would actually go to Björkö to study insects in amber - when he was initially an entomologist (science of insects). At his excavations he found tombs, objects etc from the Viking town. He worked a total of about 20 years with excavations at Björkö.
A lot of his findings can be seen at the Historical Museum in Stockholm.
We reserve ourselves for any changes in times and programs.
Sourch: wikipedia. Pictures: wikipedia