| | |
| --- | --- |
| Christmas in Stockholm - 2019 | |
In Stockholm, there is much to experience before and during Christmas. It is nice to stroll around the Old Town (Gamla Stan) and pop into a cafe and have a cup of hot chocolate, go ice skating in Kungsträdgården, go to a Christmas market on the Main Square (Stortorget) in Gamla Stan and do your Christmas shopping on Queen Street (Drottninggatan). Yes there are a lot to do.



Tip !
One tip is to visit the Stockholm Tourist Office to pick up information about what is going on in town during Christmas. You`ll find the Stockholm Visitor Center in the city center at Sergels Torg 3 in Kulturhuset Stadsteatern.

We can give you tips on what's going on in Stockholm for Christmas. Everything from Christmas music, choirs, santas, Christmas lights, ice skating, Christmas shows and other things to enjoy.



This page contains affiliate links from different partners.



#Stockholmsjul - a city in Christmas lights

#Stockholmsjul starts on Saturday November 16, 2019 when 40 streets and places in Stockholm is lit up with beautiful Christmas lights. The lighting project is one of Europe's largest.

All lighting will be of environmentally friendly materials and energy-saving LED technology. Stockholm is lit till Jan 13, after that the lights are taken down. So welcome to a Stockholm in warm Christmas lights.

Opening November 16, 2019. There will be classical Christmas music, inaugural speech, ignition of the christmas lights in Stockholm and of course performance of the official theme song #Stockholmsjul written by Tommy Körberg.
Time: 3 PM - 4 PM
Location: Kungsträdgården, Stockholm

More information about #Stockholmsjul »


Walk in a cozy Stockholm in Christmas lights
Here you can get a map that shows the streets and areas in Stockholm filled with Christmas lights.
Get the map »
Christmas at Skansen
A tradition since 1903

On Nov 30, 2019 Skansen opens the doors for this year's Christmas.

Come and enjoy a cozy Skansen full of Christmas decorations. Here you can listen to Christmas tales by the fire at Back Mats cabin, listen to choirs singing carols, eat Christmas dinner, dance around the Christmas tree, find presents at the local Christmas market, make candles, ride the pony, Advent music in Seglora church, eat saffron buns, drink mulled wine and much much more.



Christmas at Skansen: Nov 30 2019 - Jan 6 2020.
Skansen Christmas Market: Nov 30 – Dec 22 2019
Christmas Eve (24 Dec 2019): Discounted entrance on Christmas Eve. 80 SEK for adults, 60 SEK for pensioners and students, and free for children up to 15 years. Skansen is open 10AM-2PM.

More info about Christmas at Skansen »
Map - find your way around Skansen »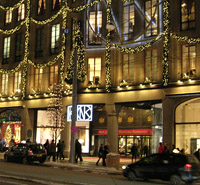 NKs Christmas windows
Meet Santa - Nov 17, 2019

Every year it is exciting to await the Christmas decorations in NK's windows on Hamngatan.

One of the highlights at Christmas time is when NK reveals the Christmas decorations and the theme of the year. It's always exciting to see what is hidden in the large display windows. On November 17 at 10.50 AM the windows is revealed and Christmas is coming to us all. Santa will come on a horse-drawn carriage just before 11 AM and open the store.

NK store in Stockholm opened already 1915. Greta Garbo once worked here as a model.

Meet Santa Claus at NK: 17 nov - 23 dec 2019.

NK, Hamngatan 18-20, Stockholm - to NK:s website »
| | |
| --- | --- |
| Tickets | Sightseeing and experiences in Stockhom during Christmas |
Stockholm Winter Tour in Stockholm archipelago

Datum: Dec - Mar
Avgår från: Strömkajen

A lovely sightseeing tour in a wintry Stockholm. The boat takes you along the city's quays towards Fjäderholmarna as we round before you move back into town. On board our guide tells us interesting anecdotes.
Book Stockholm
Winter Tour

Christmas lunch in Stockholm archipelago

Datum: Nov 28 - Dec 20, 2019
Avgår från: olika kajer

On board you can enjoy traditional Swedish christmas dishes such as smoked salmon, pickled herring, meatballs, small fried sausages, Janssons frestelse, wort bread and christmas goodies.
Book Christmas lunch

Christmas dinner in Stockholm archipelago

Datum: End Nov- Dec 22, 2019
Depart from: different berths

With our beautiful old renovated ships you get to enjoy good food and drink while the breathtaking archipelago in Winter clothing passes outside the window. On board you are served a Swedish Christmas buffet.
Book Christmas Dinner

Christmas Afternoon in Stockholm archipelago

Date: End Nov - Dec 21, 2019
Depart from: different berths

Experience the archipelago of Stockholm in winter aboard Strömmas old beautiful ships while enjoying traditional Christmas dishes like pickled herring, salmon, pates, Jansson's Temptation, sausages and ham.
Book Crhistmas Afternoon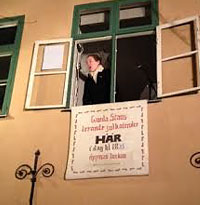 Old Town Living Christmas Calender

The Living Christmas Calender since 2005.

A nice tradition in the Old Town where you from December 1 to December 24, can attend the Living Christmas Calender. A window opens every day at 18.15. (On Christmas Eve the 24th window is opened at 11.30 am). In order to know where the today's window will open, a banner is hung in the window that says "Här öppnas luckan." A fun way to discover the Old Town. Come and experience a different Christmas Calender.

Old Town (Gamla Stan), Stockholm
to Gamla Stans Levande Julkalender (swedish) »

Swedens Lucia

The Swedish Lucia is a nice Swedish tradition. The Lucia celebration which we are accustomed with today with Lucia and her terns, star boys, singing and saffron buns comes from the early 1900s. In the dark December, Lucia comes and light up the darkness.


| | |
| --- | --- |
| Tickets | Sightseeing in Stockholm during Christmas |
Stockholm Panorama Sightseeing bus

Season: Jan - Dec
Avgår från: Gustav Adolfs Torg

Go on a guided bus tour in 75 minutes and see many must-see attractions in Stockholm on a modern air conditioned luxury coach. This is a non-stop sightseeing tour.
Book Stockholm
Panorama Sightseeing

Dinner cruise along the city's quays

Season: Sept - Dec, 2019
Departs from: Strandvägen

Book a trip with with the ship S / S Stockholm. See the nice view from the window.Choose some dishes from the menu. Take a drink in the bar
Book Dinner cruise along the city's quays

Archipelago Dinner Cruise

Season: Jan -Dec
Departs from: Strandvägen

On this tour you eat lunch that is included in the price. The tour is 2,5 hours. Your guide will inform you about Stockholm archipelago. If you want you can book your tour without lunch. There is a cafetera on board.
Book Archipelago Dinner Cruise

Hop on/Hop off Bus

Datum: Jan - Dec
Avgår fr: Gustav Adolfs Torg

A good way to see Stockholm city is on a bus tour through the city. Hop on and off as often as you like along the route. The bus stops at several of the most popular sights in Stockholm. Choose 24 or 72 Hours ticket.
Book Stockholm Hop-on/Hop-off bus
Save money with the attraction card STOCKHOLM PASS

The card STOCKHOLM PASS
With a Stockholm Pass you save a lot of money on attractions and sightseeing. You pay a fixed price for the card that is valid for different days: 1, 2, 3 or 5 days. All entrance fees to the included attractions and sightseeing are included in the price. Just show the card to enter.
More info about the Stockholm Pass »
A bit of all that is included in the Stockholm Pass
Kungsträdgården ice rink
(Oct/Nov - March 2020)
Skate at Kungsträdgården: Open from last October or Nov 1st to the first week of March. Cafe is available with mulled wine, coffee and snacks at Kungsträdgården Christmas market. Skates can be rented. Closed on Christmas Eve.
Information about Kungsträdgården ice rink »

Vasaparken ice rink
(Nov - March 2020)
Skate at Vasaparken. Opens from November til the end om March the year after (weather permitting). Please bring your own skates.
Information about Vasaparken ice rink »

Ghost Walk in Old Town

Is someone following us? .... No, probably not, but it feels so, this is scary, it is so dark here .... but, what if someone is following us! This Ghost Walk takes you to spoky addresses, creepy basements, dark back streets and hidden places where you should not be after dark. Do you dare?

Where: Gamla Stan / Old Town, Stockholm
Time: ca 1.5 tim
Age limit: 10+

Buy Ghost Walk tickets here »
Christmas markets in Stockholm 2019

Christmas is the time for Christmas markets in Stockholm and you will find markets in several places.

Skansen: 30 nov–22 dec 2019
At Bollnästorget in Skansen you´ll find around 70 stands filled with Swedish handicraft, sweets and Christmas food.
Address: Skansen, Djurgårdsvägen, Djurgården
Time: Saturdays and Sundays at 10-16.
Skansen

Gamla Stan / Old Town (Stortorget): Daily, Nov 23 - Nov 23 2019
The Christmas market on Stortorget (the Main Square) in Old Town is an old tradition. As early as 1523 Gustav Vasa decided that it would be a Christmas market on the Main Square but only with Swedish goods for sale. After many years the Christmas market is still a nice tradition here in Old Town. Since 1961, the market has almost looked the same. Here you'll find candy, sausage, fish, mulled wine, gingerbread, hats, mittens, crafts, cheeses, spices, jewelry and much more.
Address: Stortorget, Gamla Stan
Time: Daily. Hours 11-18
Stortorgets Julmarknad

Hovstallet: Nov 28 - Dec 1 2019
History of traditional Christmas market in the Royal Stables. During the Christmas market,
there are exhibitors from around the country who sells handicrafts of the finest quality, organic food, arts and crafts and much more. In addition, stables, and other sites are open throughout the weekend.
Address: Hovstallet, Väpnargatan 1, nearl Dramaten and Army Museum
Time: Friday Nov 30 at noon - 7 PM. Saturday Dec 1 at 10 AM - 6 PM. Sunday Dec 2 at 10 AM - 5 PM.
Royal Stables Christmas market



Drottningholm Castle: Dec 7-8, 2019
The second weekend of Advent for two days, you can visit the traditional Christmas market at Drottningholm. Of the various craftsmen you can buy several different products such as lights, textiles and much more. Of course you can also buy food for Christmas ham, cheese, bread,
mustard, fish and mulled wine.
Address: Drottningholm Castle, Ekerövägen
Saturday, Dec 8 at 10 AM - 6 PM. Sunday: Dec 9 at 10 AM - 5 PM.
Drottningholm Castle »




Old Enskede Market

: Dec 7-8, 2019


Sale of crafts, Christmas decorations, homemade and homemade




Address: Stora Gungans Väg, Gamle Enskede (T-bana Sandsborg)


Time: at 11 AM - 4 PM.
Old Enskede Market »



Beckmans Christmas Market:

Dec 8-9, 2018
Christmas with a personal style. Here you can find Christmas gifts that are created by the students themselves. Students come from Shape, Fashion and Visual Communication at Beckmans College of Design. Of course you can also buy julfika in their cafe.

Address: Brahegatan 10
Time: 10 AM - 5 PM
Beckmans Julmarknad »


Christmas Market Vaxholm: Dec 8-9, 2018
Visit Vaxholm for Lions Christmas market. Here you can find gifts from the various stalls. And Santa will come.
Address: Rådhustorget, Vaxholm
Time: Saturday at 11 AM - 4 PM. Sunday at 10 AM - 3 PM
Christmas Market Vaxholm »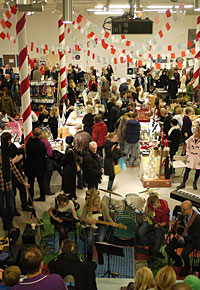 Fair Christmas: Dec 30 nov - 1 2019
This year again organization Swallows Latin America organize "Fair Christmas". It is an annual Christmas market where all participants are selling goods that are made with regard to people and the environment.
Address: ABF Huset, Plan 1, Sveavägen 41, Norrmalm
Shysst Jul »

Christmas Market at Tyresö Trade Garden: Dec 7-8 & 14-15 dec 2019
In the greenhouse we have a market square with many exhibitors where you can stroll around. Check in all the flowers, wreaths, crafts, food, Christmas decorations, jewelry, clothes, goodies, decor and much more. Children's activities.
Address: Tyresö Castle, Slottsvägen 7, Tyresö
Christmas Market at Tyresö »


Welcome to Christmas markets in Stockholm
Tickets to the Christmas Market at Skansen 2019
Skansen Christmas market is filled with goodies, food, marmelade and mulled wine. There are also crafts, design and toys and a lot of other things - great Christmas gifts for yourself and your loved ones.
Buy tickets to the the Christmas Market at Skansen »
| | |
| --- | --- |
| | Book your hotel in Stockholm during Christmas: |
New Year celebration in Stockholm 2019
New Year fireworks at Slussen

Come and celebrate the New Year togethter with other people and watch the beautiful fireworks when the clock strikes 12.

A tradition is to go outside down to Slussen at the Katarina elevator (Katarinahissen) and close by when the clock soon becomes 12. When the clock strikes 12 a beautiful firework is lit up in the sky above you. Dress warm and come along.

Observe - it is not allowed to bring your own fireworks.

New Year celebration at Skansen 2019

Ring bell ring...
Who will read the poem this year 2019. "Ring Out, Wild Bells " at Skansen when the clock strike 12 and a New Year is here.

The tradition goes back to 1895 when it was first read by Nicklas Bergendahl. In 1977 television broadcasted the New Year's celebrations from Skansen and since then it is a tradition in Swedish homes to sit down in front of the TV and hear the poem and the New Year bells. The celebration is broadcast from the Solliden stage and ends with a beautiful firework.

More information about the New Year Celebration at Skansen »

Tickets to New Year at Skansen 2019
Welcome to Stockholm's best New Year celebration dating from 1895. After midnight the grand fireworks is on display from the Salt Lake with views from Skansen! Doors open from 20:00. Live broadcast on SVT 23:30 to 00:15. Come early!
Buy tickets to the New Year celebration at Skansen »
Other good places to watch Stockholms fireworks are:
| | | | |
| --- | --- | --- | --- |
| Skinnarviksberget | Monteliusvägen | Fjällgatan | Stadsgården |
| Strandvägen | Skeppsholmen | Fåfängan | Katarinaberget |
Populära julevents i Stockholm!
With reservation for any changes.