Address: Main entrance at Allmänna Gränd, Djurgården
Season 2018: Summer Apr 28 - Sep 28 (opening hours). Halloween.

Gröna Lund or "Grönan" as it is also called is Sweden's oldest amusement park and it is located on Djurgården in Stockholm. Located very beautiful by the water. Here you go to go carousels, roller coaster rides, eat nice food and even dance and listen to music. The amusement park is fun for both old and young.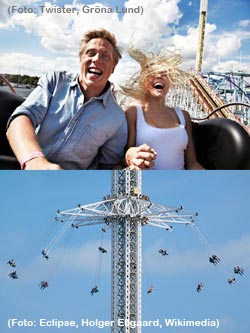 History

In 1883 Tivoli opened Gröna Lund. The idea of opening an amusement park in Stockholm just on Djurgården came from Jacob Schultheis. He came from Germany and had already been to Gothenburg and earlier have had different amusment activities there. But after complaints and other reasons, he closed his business and went to Stockholm. Here he hired the land where Gröna Lund is situated. It started as a small tivoli but today it is a big fun field.

During the 19th century it was quite common with small tivoli little anywhere in Stockholm. These were places to suit everyone who would like to dance, variety, carousels and eat good food. It became a bit of a escape from the rather heavy everyday life.
But when the city's inhabitants increased, land needed to build more housing and in 1901 only Gröna Lund remained as a tivoli.

Gröna Lunds Rides
As in all amusement parks, there are lots of different rides. Gröna Lund renews its attractions continually, but some old ones remain and are a bit popular today as ex. Lustiga Huset, The Love Tunnel and the Circus Carousel from 1892. But for those who want a bit more breathtaking, fast-paced and squeaky-feeling, you can get on the slightly more recent attractions like Eclipse, the world's highest sledge swing at 121 meters altitude, Free Fall, Insane, Jetline and Twister and Ikaros.
| | |
| --- | --- |
| | |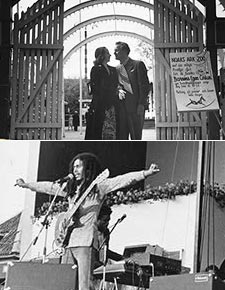 Some fun facts:

Love between competing Tivoli
In 1923, a competing tivoli opened opposite Gröna Lund, called the Amusement Park. The amusement park owner Johan Lindgren had a son named
John who fell in love with Gröna Lund, the then owner's daughter Ninni. But they kept their romance secret. Not until the two tivoli owners left, they became public and they married in 1942. The musement park closed in 1957. They continued to run Gröna Lund together. Today, Gröna Lund is included in the Parks & Resorts Scandinavia Group.

Music scene with world artists
Gröna Lund is famous for its music scenes and all the celebrities that have performed here throughout the ages. Artists who performed here include Birgit Nilsson, Evert Taube, Paul Anka, Jerry Williams, Tom Jones, The Hives, ABBA, ZZ Top and Bob Marley and others. In 2015 will include: Marilyn Manson, Sam Smith, Carola, Olly Murs, Veronica Maggio, Billy Idol, Alice Cooper, The Offspring and Lenny Kravitz among others.
2020 - New attraction at Gröna Lund - Roller Coaster
New Roller Coaster - 2020 at Gröna Lund
Gröna Lund has applied for a buildning permit to build a new Roller Coaster at Gröna Lund. It will be built 2018 and be ready 2020. It is a Roller Coaster were you hang in which the train runs under the track with the seats directly attached to the wheel carriage.
More about the The Roller Coaster »
2017 - New attraction at Gröna Lund - IKAROS
IKAROS 2017's new attraction at Gröna Lund
At this attraction, you hang up your feet high above Stockholm. You are sitting in a chair about 95 meters above sea level. At the top turns your chair to 90 degrees and you are now sitting horizontally against the ground. Then you fall in a free fall against the ground ..... Do you dare to test?
More about the Ikaros »
2015 - New attraction at Gröna Lund - HOUSE OF NIGHTMARES
Horror house 2015's new attraction at Gröna Lund
Visit this desolate and abandoned house. Here Dr Morphio has performed nightmare experiments on his patients. Nobody knows where Dr Morphio has gone, but one thing we know .... that the house is haunted by all the nightmares that the doctor managed to bring forth in his experiments. Do you dare to go in?
More about the House of Nightmares »



Sourch: Webpage: Gröna Lunds wikipedia. Picutures: Webpage, Gröna Lunds, wikipedia.