Skansen


Open all year
Ice Rink - Sollidenplanen: Jan 13 - March 11, 2018
Christmas at Skansen: 24 Nov 2018 - 6 Jan 2019.
Address: Main entrance at Djurgårdsvägen, Djurgården, Stockholm

Skansen is a Sweden in miniature where they want to show how people lived and worked in different parts of Sweden through different times. Here you will find houses, animals, plants and of course, people in timelike costumes that show their craftsmanship. One can say Skansen is one big outdoor museum with a zoo. The Park has many event during the whole year.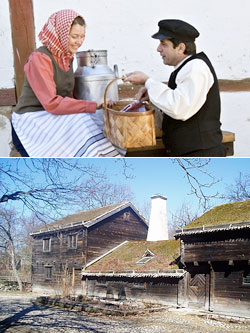 History
It was Arthur Hazelius who founded Skansen in 1891. It makes it the world's oldest open-air museum. King Karl XIV Johan had built a fortress ("skans") here in the past and that´s how Skansen got its name. After various expansions over the years, todays Skansen is about 30 hectare (2012).

At Skansen they wanted to have real houses from around Sweden, so they moved historical buildings from the countryside into Skansen. There are houses from 1700 and 1800 and even as old as from the 1400s. Skansen's oldest building is Vastveitloftet which comes from Norway and is derived from the 1300s. But when it was moved here in 1901 Sweden and Norway were in union with each other.

People were also important and initially they put out life-size dolls to populate the houses. But today it is the "real" people in timelike costumes that represent the residents and working population. That is great, because then you can also talk to them and ask questions about how it was in past days.

The Zoo
Skansen is Stockholm's only zoo. The focus is on both wild and tame Nordic animals but there are also more exotic animals. Most animals live in their enclosures but there are also wild animals as rabbits, squirrels and birds around Skansen.

Among the tame domestic animals you will find reindeer, lowland cattle (cows), goats, sheep, chickens and the beautiful Ardennes horses. In old days Ardennes horses were common on Swedish farms before the tractor made ​​its entrance. The horse has larger physique than normal horses and are incredibly strong and willing to work. Among wild Nordic animals you will find wolves, bears, wolverines, moose, fox and wild pigs and others.

In 2012 they also opened Lill-Skansen for the kids who can get acquainted with the animals.

| | |
| --- | --- |
| | |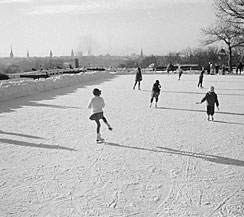 Icerink at Sollidenplan

A winter tradition has once again come to life on Skansen. From January 13, 2018, the skating rink was opened again on Sollidenplan. It has been resting since the mid 60's.

The first skating rink was already in 1929 at Kyrkhultsstugan. Later it was moved to the same position as today. There was the ice rink located from the 1940s to the mid 60's.

Here you can skate on the ice rink that are illuminated on the evening and plays music that sounds over the area. You can buy coffee, hot chocolate and opportunities are available to grill your own sausage.

Ice skating can be rented on site - helmet included.

Ice Rink Sollidenplanen: Every day with start Jan 12, 2019 - March 17, 2019.
Picture: Gunnar Lundh, Sollidenplan, Year: 1958
At Skansen, you will find among others:
Seglora church
from 1730
The church comes from Seglora parish in Västergötland. In 1901 it was threatened by demolition and then sold to Skansen. 1918 the beautiful wooden church was put in place.

The Mora farm
1700-1800s
The Mora house is Skansen's first building. It was put here in 1891. At the Mora farm you can see how a farm in Dalarna could look like in the 1800s and what kind of work the did.

The Soldier cottage
1800s
A Soldier cottage were common in all corners of Sweden for several hundred years. Parishes would keep the soldier with a simple soldier cottage for him and his family.
Sing-along at Skansen - Sollidenscenen
Tuesdays: June 26 - Aug 14, 2018

A summer tradition is the Sing-along at Skansen. Those who watch the TV broadcasts or the once who are in place at Skansen sing along with the opening song - Stockholm in my heart. 1979 was the first televised season and then with Bosse Larsson as the host. From 2016 Sanna Nielsen is the host. In the past, Lasse Berghagen, Anders Lundin, Petra Marklund and Måns Zelmerlöw have been the hosts.

Artists that have performed at Skansen is among others, Thore Skogman, Sickan Carlsson, Lill-Babs, Dr. Alban, Tommy Körberg, Robert Wells, Lill Lindfors, Carola and also foreign artists. In 2001 Ricky Martin was here and he did what all the other guests did, went out among the audience and sang and the crowd cheered.

As early as 10 AM when Skansen opens, the first visitors comes to get a good spot in front of the stage. That the show does not begin until 8 PM at night makes no difference. You who are at Skansen for the live performances usually get an extra half-hour show.

Allsång på Skansen is included in the entry ticket.
Fun facts:
New Years Eve at Skansen
Since 1895 it is a tradition to ring in the New Year at the stroke of midnight. Television will broadcast live from the Solliden scene between the hours. 23:10 to 00:10. The poem New Year bells has been read by among others Jan Malmsjö.

Christmas market at Skansen
Another tradition is the Christmas market held in November-december. It has been held here since Christmas 1903. Enjoy an old-fashioned Christmas with good food, candy, drinks, Christmas decorations and wonderful smells.

Christmas Eve at Skansen: Dec 24
During Christmas Eve (Dec 24) Skansen reduces the entry price and kids up to 15 year can enter for free with paying adult.

Swedish National Day: June 6th
A full day of celebration at Skansen. Music, dance, children's theater, and the National Day Concert. The Royal Family usually also attend the National Day celebrations, which also TV-broadcasts.

Midsummer: June 22-24
Midsommar is a feast that Skansen celebrates for 3 days. The Maypole will be raised on Midsummer's Eve at. 14th.

Ice Rink at Sollidenplan: Mid Jan - end March
From 2018, Skansen opened its skating rink at Sollidenplanen. The first skating rink that started at Skansen was at Kyrkhultsstugan in 1929. Later a ice rink was laid on which it is located today. The rink was opened from 1940 and a bit in the 1960s. A lovely tradition now again is in place.


Source: Skansen, sv.wikipedia.org,
Images: Skansen, sv.wikipedia.or, egna