A good way to experience Stockholm is on a sightseeing tour. You can go by boat, bus or city walks. A hop-on/hop-off boat or bus is really good when you can deside for your self when to hop-off and then countinue your trip.

Below we present some of all the tours you can do in Stockholm. We cooperate with Viator, Get Your Guide and Strömma in Stockholm.


Stockholm Panorama bus
Approx 75 min (Jan - Dec)
Go on a Panorama bus and get to see all of Stockholm in 75 min. This is an escorted tour. Free wi-fi on board.
Discount when booking online!
Book Stockholm Panorama Bus Tour

Under the bridges boat tour
Approx 2 hours (Apr - Nov)
You'll travel under twelve bridges and pass through a lock that is connecting the Baltic Sea with Lake Mälaren.
Discount when booking online!
Book Under the Bridges
Tour
Old Town Walking Tour
Approx 90 min (Jan - Nov)
Walk through the Old Town in Stockholm together with a guide. See interesting buildings and hear stories of the city.
Book Old Town
Walking Tour

Royal Canal Tour
Approx 50 min (Apr - Dec)
Take a cruise in Stockholm on a canal boat. See historic sights from the water while listening to an informative audio guide.
Discount when booking online!
Book Royal Canal
Tour
Combo: Walking Tour + boat to Djurgården + entrance to Vasa Museum
A priceworthy combo tour. You start in the Old Town (Gamla Stan) with a walking tour. After this you head to the docks to get on a boat to Djurgården and get to know the suroundings. Then you head inside the world famous Vasa museum where you can walk in your own pace.

Jan - Dec (approx. 2 hours walking tour)

Book combo ticket here »
Viking Tour
Approx 8 hours (April - Oct)
You will uncover the secrets of Sweden's Viking heritage, travel trough Sweden's countryside. Travel to Granbyhällen, a colossal rock decorated with swirling runes.
Book Viking
Tour

Swedish Beer Experience
Approx 2 hours
On this tour you will go to one of new up-and-coming microbreweries and be introduced to the best of Swedish beer and craftsmanship! A perfect start of the evening.
Book Swedish Beer
Experience
Pubcrawl and Nightlife Tour

On this pub crawl you will mett other travelers from around the world. Experience the best of what Stockholm's nightlife has to offer. You will be guided by 2 experienced guides. You will visit 3 bars and a club, and receive 3 free cocktail-shots
as well as 20 percent discounts on your beer, wine and cider purchases. Club admission free.
7 hours (Friday & Saturdays )

Book Pubcrawl and Nightlife Tour »
| | |
| --- | --- |
| Tickets | Stockholm Grand Tour (boat/bus) |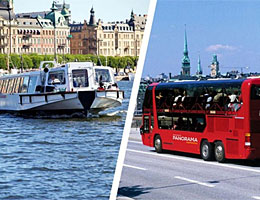 Stockholm Grand Tour
Combine a bus and boat tour. This is a very good choice if you want to do city sights both on water and on the road. You will go under 15 bridges and pass many different parts in Stockholm city by boat. A 75 min bus tour will pass the must see attractions in the city. The tour starts in the bus.

Discount when booking online!
Season: April 27 - Sep 8, 2019
Time: 3 h 45 min
Buy tickets to Stockholm Grand Tour »
Stockholm Hop-on / Hop-off bus
Ticket valid 24 or 72 hours (Jan - Dec)
A great way to get a grip on Stockholm is onboard a hop-on/hop-off bus. Get on and off along the route and explore.
Discount when booking online!
Book Stockholm
Hop-on/Hop-off bus

Helicopter flight
20 min (Jan - Dec)
Enjoy bird's eye views of Stockholm and its archipelago and islands on a 20-minute helicopter flight. See famous landmarks.
Book Stockholm helicopter flight
3 Hour Bike Tour

On this half-day bike tour you will discover the Swedish capital's rich mix of modern and historical architecture, restaurants, cafés and other areas. Your guide will bike with you and inform you about the sights you pass.
You bike through many famous spots in the city.
April-Sept (approx 3 hours)

Book 3 Hour Bike Tour »
| | |
| --- | --- |
| Ticket | Sigtuna - Explore Swedens birthplace |

Sigtuna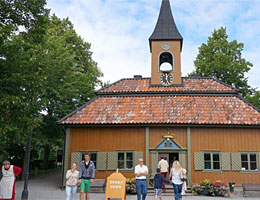 Travel to Sigtuna by boat. Sigtuna was the first real city in Sweden, and was founded year 980. The first Christian king, Olof Skötkonung lived here and he decided that the first Swedish coins should be made here. You will travel on calm water through lake Mälaren to Sigtuna. In Sigtuna you can see old churches, rune stones, and ruins. Many object are from between the Viking and medieval ages. Your guide will also show you the nicest spots in Sigtuna.

On board there is an cafeteria.

Season: June 29 - Aug 11, 2019
Time: 8 h 45 min
Buy tickets to Sigtuna - Swedens birthplace »
| | |
| --- | --- |
| Ticket | Stockholm Winter Tour |
Stockholm Winter Tour
Join this boat tour during wintertime in Sweden. You will get a guided tour along the city's quays, out to and around the islands of Fjäderholmarna. On upper deck you can borrow fleece blankets and skin rugs to keep you warm. You can buy warm beverages in the cafeteria. Soup lunch not included in the ticket but can be pre booked and pre paid.

Discount when booking online!
Season: Mid Dec - Beginning Apr
Time: 1 h 15 min
Buy tickets to Winter Tour »
| | |
| --- | --- |
| Tickets | Winter Tours (Jan-March) |

Ice Skating in Stockholm
8 Hours (Jan - March )
You go by minivan to the best ice conditions of the day. The Tours are in Jan-March. You will meet new friends and enjoy a nice day on the ice. Your guide will teach you how to skate.
Book Ice Skating in Stockholm

Nordic Skiing Stockholm
8 hours (Jan - March, Fridays)
This adventure (if snow) you will do some cross country skiing. Your guide will teach and inform you about skiing. Meet up with new friends and try this Swedish adventure.
Book Nordic Skiing Stockholm

Winter Snowshoe Full Day Hike
8 hours (Jan-March, Wednesdays
Travel with a minivan to discover a winter wonderland not long from city center. You will have snowshoes and walk on snow and
ice. Your guide will inform you about how you shall walk. You will se beautiful scenery on your way.
Book Winter Snowshoe Full Day Hike
| | |
| --- | --- |
| Ticket | Birka - The Viking City |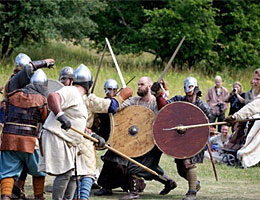 Birka - The Viking City (roundtrip)
Make a visit to the Viking City of Birka in the middle of lake Mälaren. Travelling back in time and experience how it could be in Sweden during the Viking period during 750´s. See visible trace of the people who lived and died here. Your guide will introduce you to the Viking era (included in the ticket). For you who like history - this is the trip for you. Entrance to the museum also included in the ticket.

Season: May 4 - Sept 22, 2019
Time: 6 h 45 min
Buy tickets to Birka - The Viking City »
Tickets
Christmas Dinner

Stockholm Christmas Tour with Dinner

Experience Stockholm during Christmas and New Year on board on a boat tour. Enjoy the Christmas Buffet. Don´t miss the Swedish "smorgosboard" "svenskt smörgåsbord" and dopp i grytan, lutfisk and Ris à la Malta.

Book Stockholm Christmas Tours»
Find more sightseeing tours in Stockholm »
With reservation for any changes.